能量色散型X荧光光谱仪贵金属分析专家
PM-350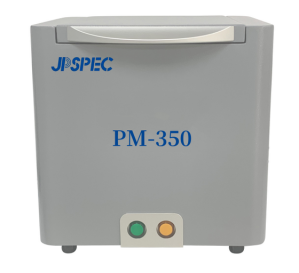 能量色散型X荧光光谱仪原理
由高能X射线激发原子电子层,使得原子核外电子发生跃迁,造成二次X射线能量释放,因不同的元素释放的能量具有不同特性,探测系统测量这些能量和数量,从而计算元素含量。
Principles of the energy dispersion-type
X fluorescence spectrometer
The atomic electron layer is excited by high-energy X-rays, making the electron transition outside the nucleus, causing a secondary X-ray energy release. Because the energy released by different elements has different characteristics, the detection system measures these energy and quantity, and thus calculates the element content.
主要组成部件
高压-光管-探测器与前放-主放-DPP-控制模
块-通信模块-显示系统等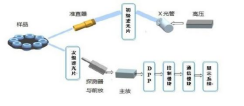 Main components
High pressure-light tube-detector with Front amplifier circuit- DPP - control mode-
Block-Communication Module-Display system etc
X-ray should analyzer structure block diagram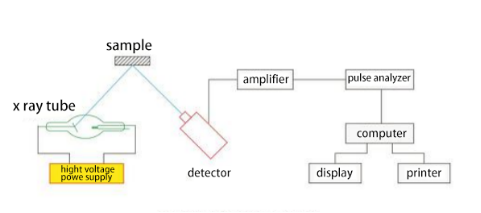 对贵金属进行分析和克拉级别鉴定
目前使用XRF分析仪对贵金属进行化学成份分析及纯度成色判断已经成为一种广泛应用、极受欢迎,并且有国家标准的支持,且性能可靠的方法。与火花试金法和化学试剂测试法相比,使用XRF对贵金属进行分析是一种更迅速、更经济的多元素检测方法。
JPSPEC佳谱仪器生产的PM-350 XRF分析仪为用户提供了一种操作方便,且性价比极高的检测技术:无需将检测工具探入到被测样件的材料中,也不会损坏被测样件,即可获得样件的合金化学成份信息,判断出样件的克拉等级。无论您是购买黄金等贵金属,还是出售或生产珠宝,或是制造金属,抑或是回收废旧金属,您都需要掌握一种可以极为精确地判断克拉等级以及其它贵金属与非贵金属含量的快速方法,在第一时间, 以有效地控制产品质量,制定合理的价格。
PM-350分析仪可以迅速得到各种类型样品精确的分析结果。
Us metals were analyzed and carat -level identified
At present, the use of XRF analyzer to conduct the method of chemical composition analysis and purity color determination of precious metals has become a widely used, very popular, and supported by national standards, and reliable performance.Analysis of precious metals using XRF is a more rapid and more efficient multi-element detection method than the spark gold test method and the chemical reagent test method.
The PM-350 XRF analyzer produced by JPSPEC provides the user with a convenient and cost-effective detection technology: without detecting the detection tool into the material of the tested sample, you can obtain the alloy chemical component information of the sample and determine the carat level of the sample.Whether you buy gold and other precious metals, or sell or produce jewelry, or make metal, or recycling waste metal, you need to master a can very accurately judge the carat level and other precious metals and non-precious metals content fast method, in the first time, in order to effectively control the product quality, set a reasonable price.
The PM-350 analyzer quickly yields accurate analysis results for various types of samples.
PM-350分析的优势和特点
。超高分辨率、超清摄像头、超便捷操作、超快检测速度、超人性化界面
。易于使用,一键操作,即可获得克拉等级及组成成份的分析结果
。有助于识别镀金样件的创新型功能
。机身结构小巧结实,外形十分漂亮,适合放置于陈列展室
。按下按钮的数秒之内,即可得到有关样件的化学成份和克拉等级的精确结果
。使用PC机和软件,可以迅速方便地制作样件的检验结果证书
。用户通过摄像头及舱内照明系统,可看到样件测试位置,提升了用户对测试信心
。PM-350分析仪测试数据可以下载和上传网络,检测结果易于查看和分享
。有X射线防护锁,只有在封闭状态下才发射X射线,安全、可靠的保证客户使用
Advantages and characteristics of the PM-350 analysis
. Ultra-high-resolution, ultra-clear camera, super-convenient operation, super-fast detection speed, super-humanized interface
. Easy to use, one-click operation, you can obtain the analysis results of the carat level and components
. Help to identify the innovative features of the gilt samples
. The body structure is small and strong, suitable for placement in the showroom
. Precise results on the sample chemical composition and the carat grade are obtained within seconds of button press
. The PC and software can be produced quickly and easily
. Through the camera and cabin lighting system, users can see the test position of the sample piece, improving users' confidence in the test
。The PM-350 Analyzer test data can be downloaded and uploaded on the network, and the detection results are easy to view and share
. There are X-ray protection lock, only in a closed state to launch X-ray, safe and reliable to ensure customer used
硬件性能及优势
超高分辨率、超清摄像头、超便捷操作
超快检测速度、超人性化界面
超清摄像头
光管电压5KV - 50KV
高压电源0 ~ 50KV Spellman(USA)
光管管流0μA~ 1000μA
滤光片可选择多种定制切换
探测器Si-pin
分辦率Si-pin149土5eV
多道分析器JPSPEC-DPP
样品腔尺寸310*280*60 ( mm)
测试时间30sec一100sec
Hardware performance and advantages
Ultra-high resolution, ultra-clear camera, super convenient operation
Ultra-fast detection speed, ultra-humanized interface
Ultra clear camera
Optical tube voltage is 5KV-50KV
High-voltage power supply of 0 ~ 50KV Spellman (USA)
Optical tube flow 0 A~ 1000 A
Filters can choose from a variety of custom switches
The detector is the Si-pin
Sub-operation rate of Si-pin 144 soil 5eV
Multichannel analyzer JPSPEC-DPP
Sample cavity size 310 * 280 * 60 (mm)
Test time was 30sec and one-100sec
仪器性能及配置
分析范围1ppm to 100 %
精度RSD≤0.05% Au≥90%
测试样品的物理状态固体、粉末、液体
感兴趣元素贵金属Au, Ag, Pt, Pd, Ru, Rh, W, Os, Ir, etc.
基本金属Cr, Mn, Fe, Co, Ni, Cu, Zn, Cd, Sn, Pb, etc.
仪器环境要求
环境温度15° C~30° C
相对湿度35%一70%
电源要求AC 220V土5V, 50/60HZ
分析软件FP定性定量分析软件
外部尺寸380*372*362 ( mm)
重量29Kg
Instrument performance and configuration
Analysis range of 1ppm to 100%
Precision RSD 0.05% Au 90%
Test the sample for its physical state, solid, powder, and liquid
Elements of interest are the precious metals Au, Ag, Pt, Pd, Ru, Rh, W, Os, Ir, etc.
Basic Metal Cr, Mn, Fe, Co, Ni, Cu, Zn, Cd, Sn, Pb, etc.
Instrument environment requirements
The ambient temperature is 15°C~30°C
Relative humidity is 35% and one to 70%
Power supply requires AC 220V soil 5V, 50 / 60HZ
Analytical Software FP Qualitative Quantitative Analysis software
External Dimensions 380 * 372 * 362 (mm)
weight 29Kg
应用领域:
珠宝制造
回收行业
典当行/精炼行业
质量技术监督局
现金黄金兑换
零售行业
Applications, fields:
Jewelry manufacturing
Recycling industry
Pawnshop / refining industry
The Bureau of Quality and Technical Supervision
Cash gold exchange
Retail industry
应用和示例
测试贵金属Au、Pt. Ag. Pd精准的分析
现场对黄金进行克拉级别鉴定: 0-24 kt
核查废旧金属中的金含量对杂质材料进行辨别
辨别未知金属
Applications and examples
Testing of the precious metals Au, Pt.Ag.Accurate analysis of the Pd
Check gold on site: 0-24 kt
Check the gold content in the waste metal to identify the impurity materials
Identify unknown metals
成功案例:
successful case: